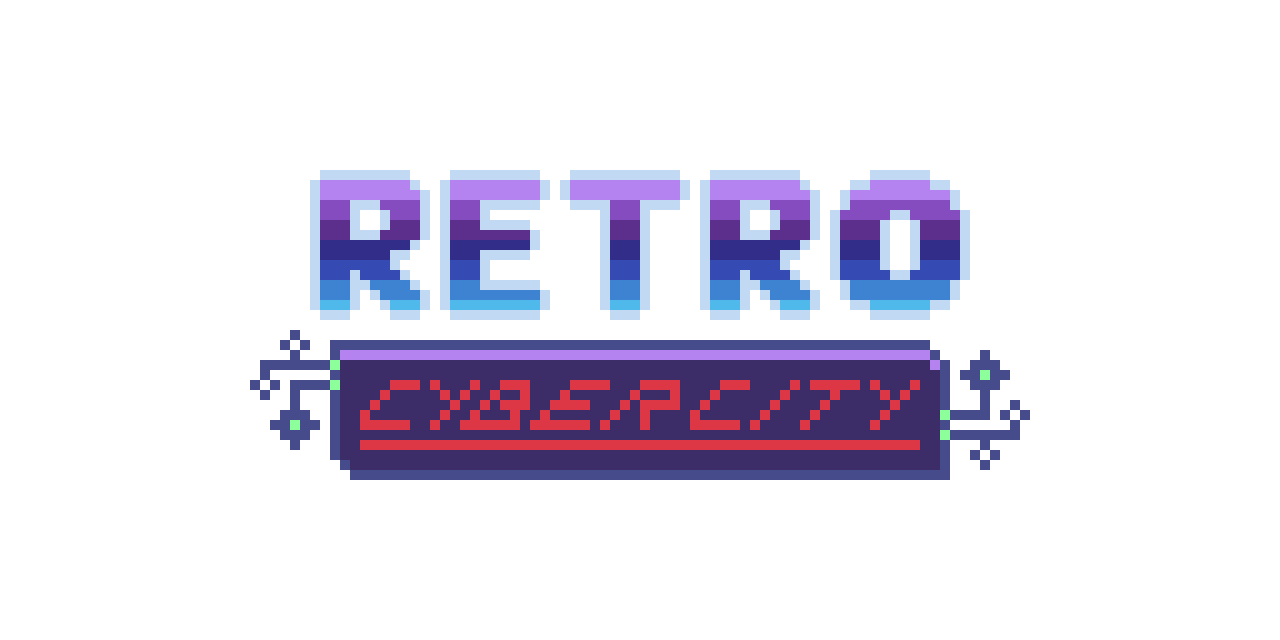 Retro Cyberpunk Exterior Streets
A downloadable asset pack
Get this asset pack and 5 more for $12.99 USD
View bundle
Retro Cyberpunk City Streets
At last! I'm sorry for the delay in releasing this pack, but I'm very pleased with how it turned out and I think it, alongside the character pack and interior pack, means users will have enough assets to really start making diverse maps! I hope to see some!

This pack is an exterior street pack and includes what you need to make vibrant urban cyberpunk street scenes!

This asset pack is for creators who are looking to try a cyberpunk or futuristic scifi aesthetic that takes cues from the analog era of the 1980s and 90s. Think Blade Runner or Ready Player One with an SNES/SEGA Genesis style color palette.
It includes tiles and objects in an "urban streets" theme reminiscent of run down city districts in a cyberpunk setting. There are alternative versions of many of the objects and tiles included so that you have creative freedom with building environments as you wish. These assets can certainly be used beyond a cyberpunk or urban streets theme for building out maps and environments. The pack is top-down perspective and scaled at 16x16. With some tweaking, it can be used in various game development engines, including Unity and RPGmaker. The pack uses the palette BLKNX64 by @blkirl.
Special Notice

Users of my other two packs may note that I have not included the huge assortment of variant formats (size and with a background color vs. transparent). One of the reasons is how time-consuming and fiddly the process of creating those extra options are. It's easy to make mistakes and difficult to organize and name so many variants when I'm not even sure people are going to use them. Instead of including them, I will instead offer instructions on how to resize these using GIMP 2.0, Photoshop, Aseprite, or other graphic design software.

Look for that near the bottom of this section under Download and Install Instructions.

What Does It Include?

This pack includes:
Variety of ground, building, roof, and wall tiles for exterior scenes.
Specialty tiles for exterior appliances such as satellite dishes, panels, and more.
Dozens of objects and props with variants, including over 20 unique signs in 3 orientations.
Bonus Cybercar as an early tease for a Vehicle Pack to come later.
Will There be Updates?

I worked pretty hard to make sure this one was as complete as possible, but I can't say I won't sneak some updates in there. If folks have suggestions and they are easy to add, I will update this pack to include them. Same with any errors or wonky stuff that I didn't catch.
But generally, this pack is complete as is.
UPDATE 1:
Due to a cropping error I missed, there were some missing elements in the Objects/Props part of the pack. I have fixed this and you will now see awnings, doors, and posters that weren't included when I launched. Sorry for any inconvenience!
UPDATE 2:
BONUS car sprite sheet now added. Sorry that it wasn't there before, it was an oversight!
UPDATE 3:
Added a few light touch-ups to the BONUS car sprite. Wasn't entirely happy with some of the boxy shaping, so tapered the windshields in the front/rear sprites.

Licensing
Please note, by purchasing and downloading this product, you are agreeing to the following licensing terms:
What You Can Do:
Use in commercial and non-commercial games, personal projects, or public domain projects.
Sell works created using this asset, eg: a video game.
Modify assets for your own use in personal or commercial projects. For example, reorganizing tile sheets, adjusting size, or mixing and matching assets.
Publish work using this asset on websites relating to art, games, and similar.
What You Cannot Do:
Resell the original or any modified version.
Use the assets or derivatives in logo, trademark, or service mark.
Use these assets for generators, code-based art tools, or NFTs.
Contact & Support
You can find me on twitter as @hedgewizardgame where I post art almost daily, focused mostly on my indie game The Hedge Wizard. I make other art as side projects or for fun. Any time I really get a bug to make game assets outside of my own projects and commissions, I'll probably put them on itch! If you'd like to commission my work or are simply curious to see more of it, please check out my twitter or my Artstation page. DM me on Twitter with any questions or simply comment below.

Purchase
Get this asset pack and 5 more for $12.99 USD
View bundle
In order to download this asset pack you must purchase it at or above the minimum price of $2.49 USD. You will get access to the following files:
Comments
Log in with itch.io to leave a comment.
I like the pack, any more shadowrun type stuff you do, I'll pick up later.

I will for sure be doing more. I have the beginnings of a "Dock" area pack, a vehicle pack (incl. mechs), and more. It's always tough to decide how much to include, how to break things down so they don't get out of hand, etc.
Glad you like it! Feedback and suggestions are always welcome!
I like your pack very much.
Thank you so much, that's really gratifying to hear. Any additions you'd like to see or even entirely new packs in this theme that you think would be cool?
I have a new pack series in the works and the first parts of it are coming out tomorrow. It's a fantasy pack based on Norse mythology and the first bundle will have a character pack (24 characters w/ walk cycles) and an outdoor tileset with a village theme. Stay on the lookout as the style is similar to this, just a different palette and aesthetic. A clever creator could easily blend the packs to make something really out there.
But that said, I'll definitely be adding more to the Retro Cyberpunk series as well. I have several packs on the go with that, including an item icon pack, a "docks" themed pack, a vehicle pack, and more. I wanna eventually get to a one release a month schedule, but right now it's more like a couple of packs at the same time, every 4-6 months. Haha. I'll get faster.
I am so touched to hear this, I am a fan of cyberpunk and love all the works on this theme, your work is very good, I like it very much, will keep following you